Führte Streifenlicht IP20 konstante Spannung 350W Fahrer 12v 2a führte Stromversorgung für geführten Streifen Fahrer und Streifenprüfer.

Umfangreiche Unterstützung im Telefonbild, Spielkonsolen, Sprachvideomaschinen, Walkman, Notebook-Computern, Mobiltelefonen und anderen Geräten.

Die allgemeine Nennspannung der Stromversorgung bezieht sich auf die Leerlaufspannung.

kein Strom, wenn die Ausgangsspannung, so Led Strip Driver kann verstanden werden, dies ist die maximale Spannung Stromversorgung Ausgangsspannung.
Verwandter Controller: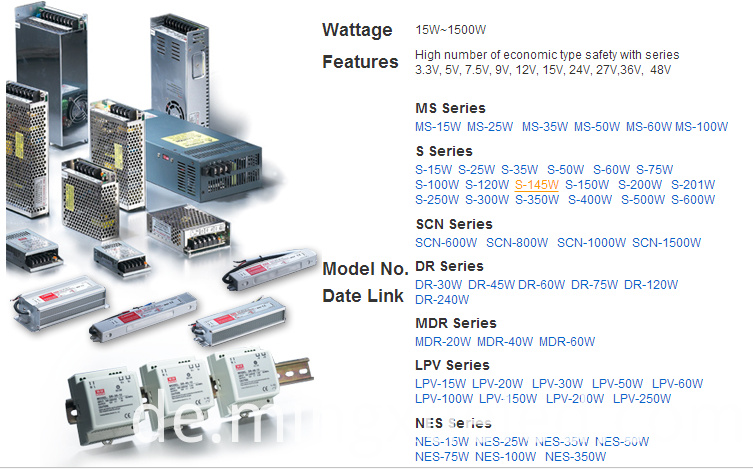 Spezifikation von 350 watt led streifen fahrer:
Model

S-25-5

S-25-12

S-25-15

S-25-24

Specification

DC output voltage

5V

12V

15V

24V

Output voltage error

±2%

±1%

±1%

±1%

Rated output current

5A

2.1A

1.7A

1.1A

Output current range

0-5A

0-2.1A

0-1.7A

0-1.1A

Wave and noise

50mVp-p

50mVp-p

75mVp-p

100mVp-p

Inlet stability

±0.5%

±0.5%

±0.3%

±0.2%

Load stability

±1%

±0.5%

±0.3%

±0.2%

DC output power

25W

25.2W

25.5W

26.4W

Efficiency

80%

83%

83%

85%

Adjustable range for DC voltage

±10%

±10%

±10%

±10%

AC input voltage range

85~132VAC/170~265VAC/47~63VAC,120~370VDC

Input current

0.6A/115V 0.35A/230V

AC impulse current

Cold-start current 15A/115V 30A/230V

Leakage current

<0.75mA/240VAC

Overload protection

105%~150% Type,PULSING HICCUP SHUTDOWN,Reset,auto recovery

Over-voltage protection

115%~135%

Temperature coefficient

±0.03%°C(0~50°C)

Setup rise hold up time

800ms,50ms,20ms/115VAC 300ms,50ms,80ms/230VAC

Vibration

10~500Hz,2G 10min./1cycle,Period for 60min,Each axes

Withstand voltage

I/P-O/P:2.5KVAC I/P-FG:2KVAC O/P-FG:0.5KVAC

Isolation resistance

I/P-O/P, I/P-FG, O/P-FG:100M Ohms/500VDC

Working temperature and humidity

-10°C~+60°C,20%~90%RH

Store temperature and humidity

-20°C~+85°C,10%~95RH

Overall dimension

98*97*35mm / 60pcs per carton

Weight

0.3Kgs

Safety standards

Desgin refer to UL1012,EN60950-1,EN61347-1,EN-61347-2 approved

EMC standards

EN55015,EN55022,EN55024,EN61000-2,EN61000-3,EN61547 approved
Bilder für 350w LED-Streifenfahrer:
Verpackung und lieferung von 350 watt led-streifen fahrer:
Verpackung: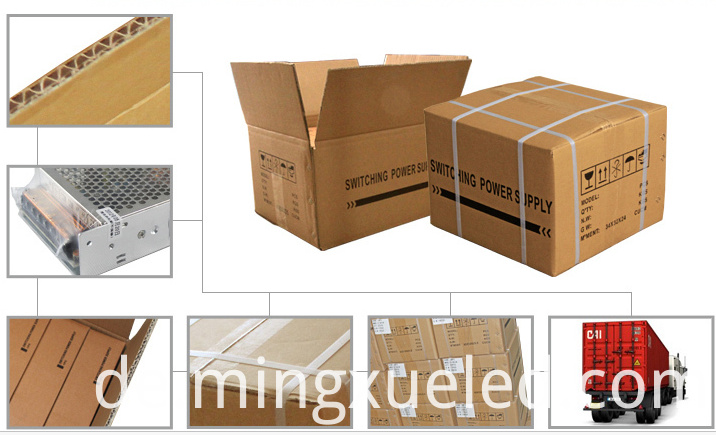 LED Streifen Treiber Lieferung:
Bedienung: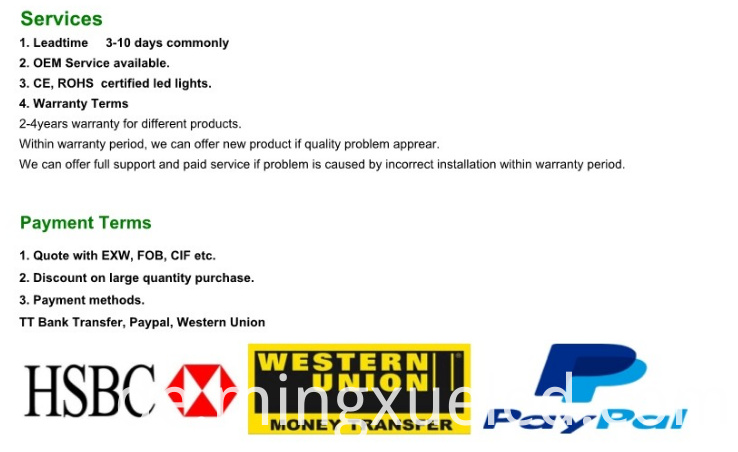 FAQ:
1. Spannung
• Ausgang XXV am Schaltnetzteil. XX ist die Spannung.
ZB: 5V, 9V, 12V, 13,8V, 15V, 18V, 24V, 36V 48V .............
2.Aktuelle:
• Ausgang XXA bei Schaltnetzteil. XX ist die Strömung.
ZB: 0,5A, 1A, 1,5A, 2A, 3A, 4A, 5A, 6A 10A 15A 20A 30A 40A 50A 60A 80A ......
3. Qualität
• Wir haben den besten Fachmann und erfahrenen Ingenieur und strenges QA- und QC-System. Rpair Rate unter 0,1% ~ 0,2%.
4. Lieferung
• Starke produktionskapazität: 6000 stücke pro tag, könnte kundenized paket auf anfrage. Wir machen den Versand zum wirtschaftlichsten für Sie und die Frachtkosten werden im Voraus für Ihre Überlegungen und Anforderungen informiert
5. Garantiezeit
• Wenn während der Garantiezeit ein Defekt und / oder ein inhärenter Fehler festgestellt wird, muss der Käufer den Verkäufer nach der Prüfung und Bestätigung des Verkäufers über die fehlerhaften, fehlerhaften Teile oder beschädigten Waren informieren, wenn die Ware aufgrund von fehlerhaften Produkten beschädigt wurde Der Verkäufer wird unverzüglich innerhalb von 7 Tagen nach Erhalt der Mitteilung des Käufers per Fax / Post die mangelhaften oder fehlerhaften Teile auf eigene Kosten beseitigen, reparieren oder ersetzen.
Produktgruppe : LED Streifen-Treiber