Universaltransformator IP20 für LED-Streifen-Adapter DC12V 200W Stromversorgungs-Fahrer, geführte Stromversorgung für geführtes Streifenlicht und Streifenprüfer.

Led Strip Driver ist ein kleines tragbares elektronisches Gerät und elektrische und elektronische Energieumwandlung Ausrüstung Versorgung, in der Regel durch die Schale, Netztransformator und Gleichrichterschaltung, kann seine Ausgabe in AC-Ausgangstyp und DC-Ausgangstyp unterteilt werden.
LED-Streifen Treiber Related Controller: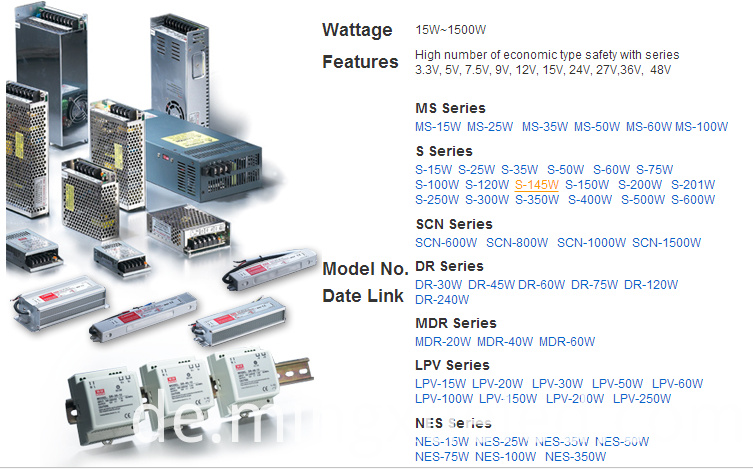 Spezifikation von 350 watt led streifen fahrer:
Model

S-25-5

S-25-12

S-25-15

S-25-24

Specification

DC output voltage

5V

12V

15V

24V

Output voltage error

±2%

±1%

±1%

±1%

Rated output current

5A

2.1A

1.7A

1.1A

Output current range

0-5A

0-2.1A

0-1.7A

0-1.1A

Wave and noise

50mVp-p

50mVp-p

75mVp-p

100mVp-p

Inlet stability

±0.5%

±0.5%

±0.3%

±0.2%

Load stability

±1%

±0.5%

±0.3%

±0.2%

DC output power

25W

25.2W

25.5W

26.4W

Efficiency

80%

83%

83%

85%

Adjustable range for DC voltage

±10%

±10%

±10%

±10%

AC input voltage range

85~132VAC/170~265VAC/47~63VAC,120~370VDC

Input current

0.6A/115V 0.35A/230V

AC impulse current

Cold-start current 15A/115V 30A/230V

Leakage current

<0.75mA/240VAC

Overload protection

105%~150% Type,PULSING HICCUP SHUTDOWN,Reset,auto recovery

Over-voltage protection

115%~135%

Temperature coefficient

±0.03%°C(0~50°C)

Setup rise hold up time

800ms,50ms,20ms/115VAC 300ms,50ms,80ms/230VAC

Vibration

10~500Hz,2G 10min./1cycle,Period for 60min,Each axes

Withstand voltage

I/P-O/P:2.5KVAC I/P-FG:2KVAC O/P-FG:0.5KVAC

Isolation resistance

I/P-O/P, I/P-FG, O/P-FG:100M Ohms/500VDC

Working temperature and humidity

-10°C~+60°C,20%~90%RH

Store temperature and humidity

-20°C~+85°C,10%~95RH

Overall dimension

98*97*35mm / 60pcs per carton

Weight

0.3Kgs

Safety standards

Desgin refer to UL1012,EN60950-1,EN61347-1,EN-61347-2 approved

EMC standards

EN55015,EN55022,EN55024,EN61000-2,EN61000-3,EN61547 approved
Bilder für 200 watt led streifen fahrer:
Verpackung und lieferung von 200 watt led-streifen fahrer: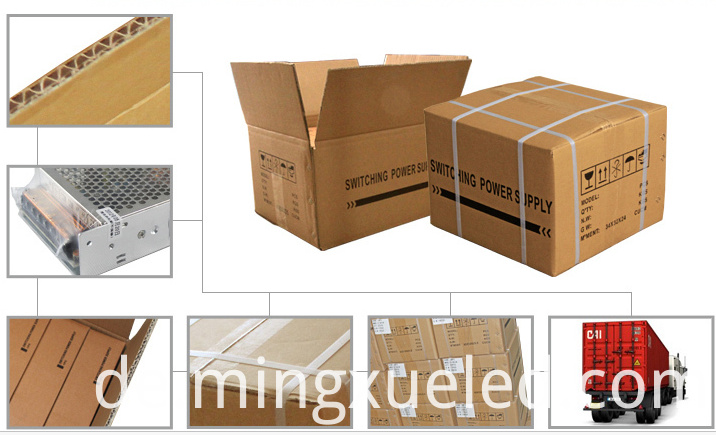 Led Strip Treiber Lieferung:
Bedienung:

Bedienung:
Wir widmen uns dem Angebot humanisierter Portion für jeden Kunden! Egal, ob das Geschäft groß oder klein ist, wir tun immer unser Bestes, um unseren Kunden den besten Service zu bieten und gemeinsam zu entwickeln.
1. Zwei Jahre Garantie für jedes Einzelteil, das Stromversorgung schält
2. strenge Qualitätskontrolle Inspektion vor dem Versand
3. stoßsichere und qualitativ hochwertige Blisterverpackung, um das Produkt vor Beschädigungen während des Versands zu schützen
4. OEM-Design und OEM-Verpackung willkommen
5. Starke Produktionsfähigkeit
6. Top 5 Globale E-Business-Firma von Alibaba
7. Service online, antworten Sie innerhalb von 6 Stunden
8. Qualität ist das Herz unserer Fabrik und Service ist die Seele!
Produktgruppe : LED Streifen-Treiber